We can host motorhomes, caravans and tents for the V8s weekend at Pukekohe this year.
There are 54 Powered and 27 Non-powered sites.
Sites are available based on a first booked / first served basis. Get in early to reserve your place.
Further sites may be added to cope with demand, but these will all be unpowered.
Click "Search" here to start the process.
Payments can be made by Credit Card or Internet Banking.
The Camping Sites will be for SELF-CONTAINED vehicles and TENTS.
ONE vehicle per site maximum, unless by prior arrangement at the discretion of the Committee.
TENTS are allowed for this special event only. Power will not be provided to tent sites.
Sites will be 6m wide & 8m deep. Sites will be marked and vehicles will park where directed on the site to allow the regulatory minimum 1.5m on either side of the vehicle.
There will be a limited number of powered sites.
If power is required, the vehicle's current Electrical Warrant of Fitness must be displayed. These will be checked on arrival.
The Showgrounds will provide toilets & showers which will be serviced daily.
Dump station is now available on site for the exclusive use of our campers.
Noise restrictions apply as per local council policy. Designated "quiet hours" from 10pm-7am.
Please respect your neighbours.
Speed Limit – 10kmph max.
NO SMOKING / NO OPEN FIRES on site at all times, no exceptions.
Sites are available on a first booked / first served basis. Please check the site map carefully as sites will not be able to be changed once booked.
All vehicles must park where directed. The Franklin A&P Society, or its agents, will not be liable for any injuries to any person or damages to property while they are at the Pukekohe Showgrounds. Should claims for damages or injuries that may arise from or be in any way connected with the Camper, the Camper agrees to indemnify Franklin A&P Society or its agents from liability for all such claims.

FAILURE TO COMPLY WITH THE ABOVE MAY RESULT IN REMOVAL FROM THE GROUNDS AND FORFEITURE OF ANY FEES PAID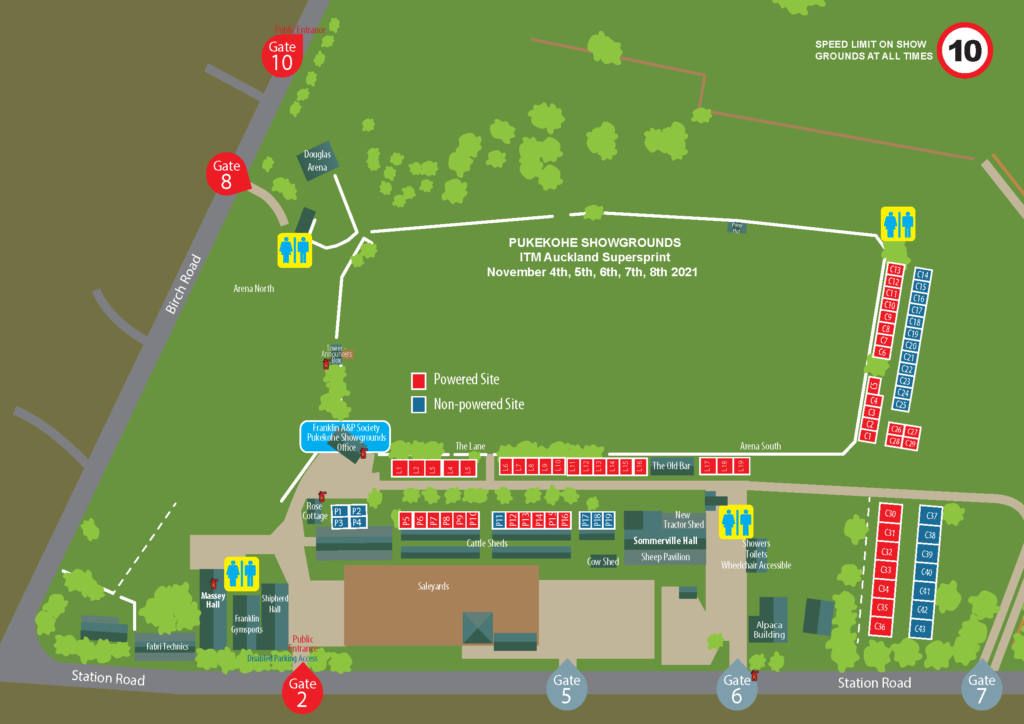 Please carefully check the map below for your preferred site(s), and note the site number(s) under the Notes section in the booking form